show / hide sidebar
Best Benefits of an Electric Fireplace
Best Benefits of an Electric Fireplace
Let's face it...it's winter out there.

The days are shorter and the sun is lower the sky so having a cozy living room with comfortable couches and a beautiful fireplace to enjoy a cool winter evening is very important.

But the reality is that fireplaces often take a lot of work and money, even when you buy a home with one already installed.

Wood-burning fireplaces are messy, drafty and high maintenance.

You can easily shell out over a thousand bucks for wood and still lose money on heating efficiency.

Open masonry fireplaces are a leading source of indoor air loss, even more so than windows and doors.

Electric fireplaces will eliminates drafts and lowers your energy bill.

Plus, it provides clean and efficient heat and is low maintenance – no chopping, hauling, or cleaning involved, just turn it on at the flip of a switch.

Here are the most common benefits you will immediately notice from switching to an electric fireplace.

No Smoke and Safety
You don't have to worry about smoke penetrating your home as there are no real flames.

When you plug the fireplace in and turn it on, lights create a realistic appearance of flames on a carefully sculpted log.

You get the look and feel of a real fire without having to worry about inhaling potentially toxic fumes.

When you switch to electric, you don't have to worry about children or pets breathing in dangerous smoke.

Electric fireplaces heat up a room but are still cool to the touch, which means nobody will get hurt if they get too close.


Lower Maintenance
When you burn real wood with real fire, it creates smoke and ash.

When smoke and ash travel up your chimney, it leaves residue known as soot.

Slow-burning chimney fires don't get enough air or have fuel to be dramatic or visible.

But, the temperatures they reach are very high and can cause as much damage to the chimney structure – and nearby combustible parts of the house

Because of this, you will have to clean your wood-burning chimney on a regular basis so that the smoke can safely travel up and out and not catch fire.

However this is not the case with electric fireplaces.

Since they do not burn real wood, they do not produce smoke or fumes, there are no maintenance requirements for an electric fireplace.

There is no chimney to clean and you never have to worry about cleaning up the logs or ash.

You just turn it on when you want it and turn it off when you're done.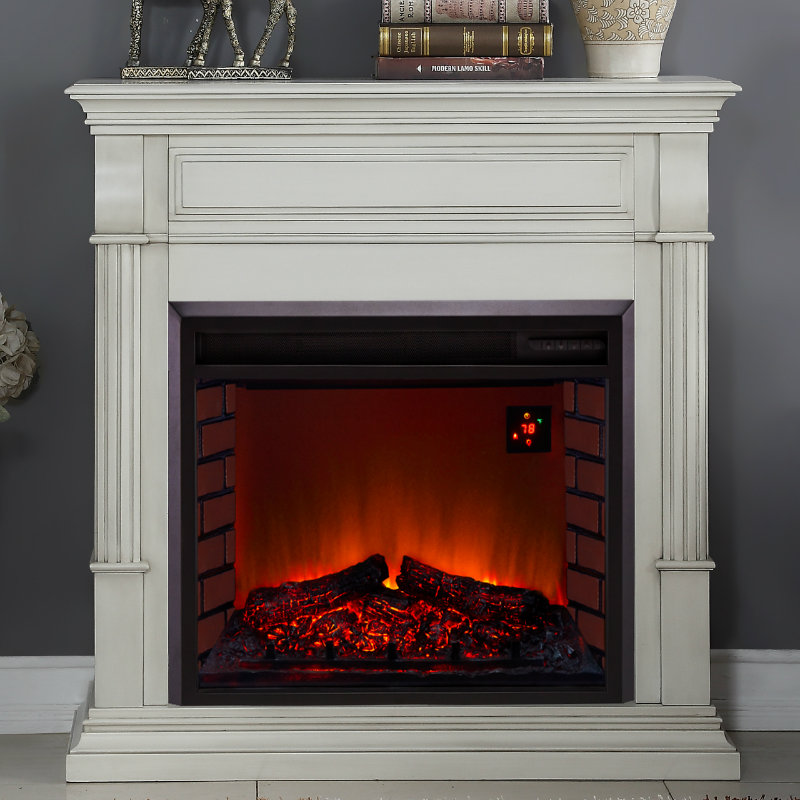 Lower Cost
Electric fireplaces are much cheaper to buy and install.

The initial cost of an electric fire place versus a wood-burning one is a mere fraction, and that price is entirely dependent on the style for which you are buying.

The installation of some fireplaces can cost thousands upon thousands of dollars and for many homeowners, this initial cost just isn't worth it.


Supplemental Heating Strategy
An electric fireplace is an effective way to heat up the room in which you are sitting without drastically increasing your electric bill for the rest of the house.

Because electrical fireplaces use less electricity than your home's main heating system, this means lowering your energy bills during the winter.

This method of staying warm is called "supplemental heating", and is a very effective way to save money while keeping your immediate temperature comfortable.


Easy Installation
You don't need to knock out a wall or completely remodel to enjoy a crackling fire and warmth in the winter.

You just plug the device in and leave it, which means it's great if you live a small home or apartment and still want a fireplace.
Dirty wood-burning fireplace getting you down? Let Factory Buys Direct help rekindle the romance with FREE Shipping and energy efficient electric fireplace.

---