show / hide sidebar
​Best Gift for Him for Valentines Day
​Best Gift for Him for Valentines Day
Best Man Cave Gift for Valentines Day
Turn the Garage or Basement into a Man Cave with Supplemental Heat.
A basement or garage is a great way for your man to chill and watch the game but he wants his beer cold, not his feet. So turn the garage or basement into a Man Cave with supplemental heat.
What were you going to get him for Valentines Day? Flowers? Red shorts? A stupid stuffed bear?
Get him the gift that keeps on giving...warmth!
Many guys use their garage or basement space as a workshop, studio, or man cave and need to invest in a good source of heat during the winter months.
Man caves are domains where men can practice some of their favorite activities like fixing cars, making beer and watching the game in peace.
But man caves usually lack of insulation which means that temperatures can plunge very quickly into the ice zone.
There are lots of different types of heaters that have been created specifically to heat your garage or basement space efficiently and safely so don't skimp and the get drug store heater that burns out in 2 minutes.
Electric vs Gas Heat
First of all a gas heater or fireplace is quite large and requires professional installation.
The initial cost is more for gas but in the long run it will be cheaper than electricity.
Electric heaters are a lot cheaper but the operating cost is more expensive.
Gas heaters produce more heat when compared to electric heaters in the same amount of time and gas is cheaper than electricity.
But electric space heaters are perfect when a just small space is to be heated at lower temperature settings.
Also portable electric heaters do not need installation.
Gas Fireplace
This is the ultimate installed fix that enhances the value of your entire home and not just the Super Bowl party.
It's is the focal point of any room and will give your modern day cave man years of realistic looking flames to ponder the questions of the universe...like will Tom Brady retire this year and is this the last winter ale?
He can also place beverages on top of the wood mantle as he expounds his theories to his audience.
This Duluth Forge Dual Fuel Vent Free Fireplace kicks out 32 thousand BTU's of heat and can radiate out over 1500 square feet.
The dark-brown wood completes the look of any space.
It is 99.9% efficient and no outside duct or chimney is needed!
Just hook it up to liquid propane or natural gas and enjoy outstanding supplemental heat and elegant flames.
But if lack of space is an issue, it may be hard to fit the big screen TV and oversized leather couches properly around this large center piece of furniture.
Electric heaters tend to be a bit smaller but do a great job.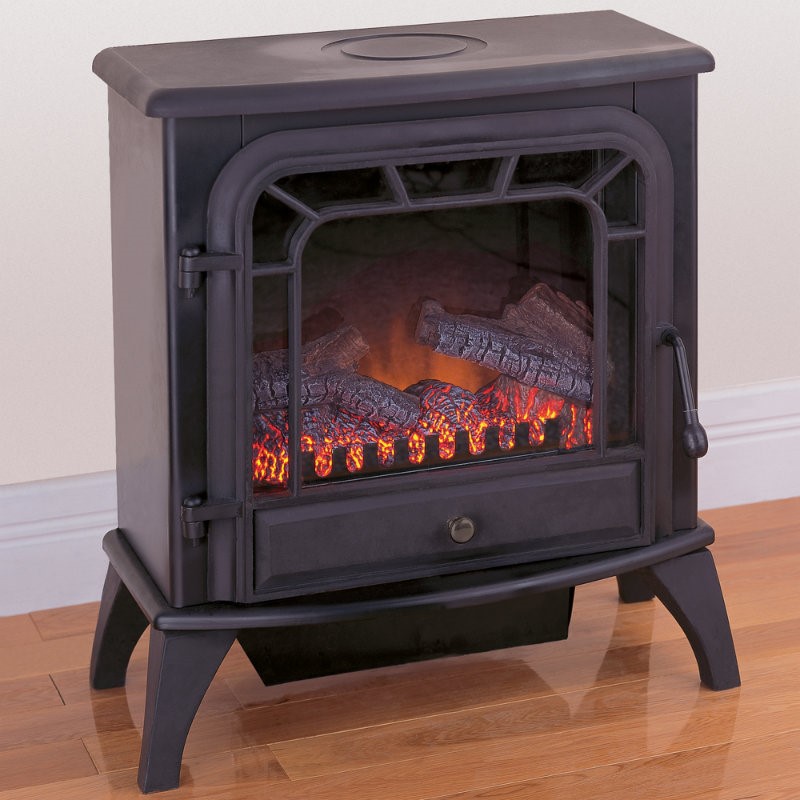 Electric Heaters
Electric heaters are the most common and easiest heaters to run.
This space saving electric stove fireplace features realistic flame patterns that mimics the movements of a real fire.
Just plug it in to any standard 120 volt outlet and get instant flame ambiance and warmth.
This ProCom Electric Stove Fireplace has a cool-to-touch surface and an automatic safety shut off.
It's easy to operate and heats up to 400 Sq. Ft!
Don't let cold weather deter your guy from enjoying his favorite workspace, garage or hangout area.
It's time to invest in a solution that will add ambiance and warmth that will impress anyone who walks into his domain.
With supplemental heaters, you can transform all unused cold space into a man cave that can be enjoyed anytime of the year.
---