"Taxation without representation!" was the cry for America's 13 Colonies, which were forced to pay taxes to England despite having no representation in the British Parliament.
On July 2nd, 1776, Congress voted in favor of American independence, and two days later delegates from the 13 colonies adopted the Declaration of Independence, an historic document drafted by Thomas Jefferson.
George Washington issued double rations of rum to all his soldiers to mark the anniversary of independence.
Philadelphia held the first annual commemoration of independence on July 4, 1777 and festivities for the 4th of July celebration included concerts, bonfires, parades and the firing of cannons and muskets and public readings of the Declaration of Independence.
Pursuit of Happiness and BBQ!
"We hold these truths to be self-evident that all men are created equal, that they are endowed by their Creator with certain unalienable Rights, that Among these are Life, Liberty and the pursuit of Happiness."
July 4th has been traditionally celebrated as the birth of American independence, with festivities ranging from fireworks, parades and barbecue!
It was recorded that George Washington himself attended a "barbicue" in Alexandria, Virginia, and the origins of American barbecue date back to colonial times. As the country expanded westwards along the Gulf of Mexico and north along the Mississippi River, barbecue went with it.
Today's BBQ grills pack a lot of heat so here's some tips you need to know before you buy.
Gas vs. Charcoal - Which Should You Buy?
The war between charcoal grill purists and gas grillers burns bright. Different grills suit different people and you should choose a grill according to your lifestyle.
Whether you choose gas or charcoal, you should look for a few key things and spend as much as you can afford.
Gas Grills
Gas grills are best for people who want to grill quickly after work or the just occasionally grilling burgers and dogs.
The best benefits of gas grills is that they are fast to heat, easy to clean and no messy charcoal to prepare.
The main drawback of gas grilling is the lack of smoke flavor from charcoal so look for a grill with lava rocks, which mimic charcoal in heat distribution.
The diner look and feel completes this unique to the Bel Air 4-Burner Red Cart Gas Grill. Nostalgia is the name of the game with this grill and your 4th of July cookout will be remembered.
Main burners: 12,000 BTUs, Side burners: 8,000 BTUs, Total BTUs: 66,500.
Charcoal Grills
The first recorded mention of barbecue in America was by Christopher Columbus on the island of Hispaniola where they had developed a unique method for cooking meat over an indirect flame, created using green wood to keep the food (and wood) from burning.
Charcoal grills perfect the art of low and slow barbecue and are best for the more serious griller with more time to burn. The benefit is clear, a full-bodied smokey flavor.
The drawbacks are they take longer to heat and have more to clean up.
Don't skimp when buying a charcoal grill and look for one made with cast iron or steel for durability and heat conduction. Also, make sure the surface area is big enough to accommodate the larger cuts of meat, like ribs and brisket.
Stainless steel grates are easy to clean and create intense heat with pronounced grill marks, a sign of rich flavor caused by caramelization. A built-in temperature gauge will keep you from opening the lid every few minutes, which lets out precious heat.
Look for a large cooking area if you are a frequent party host.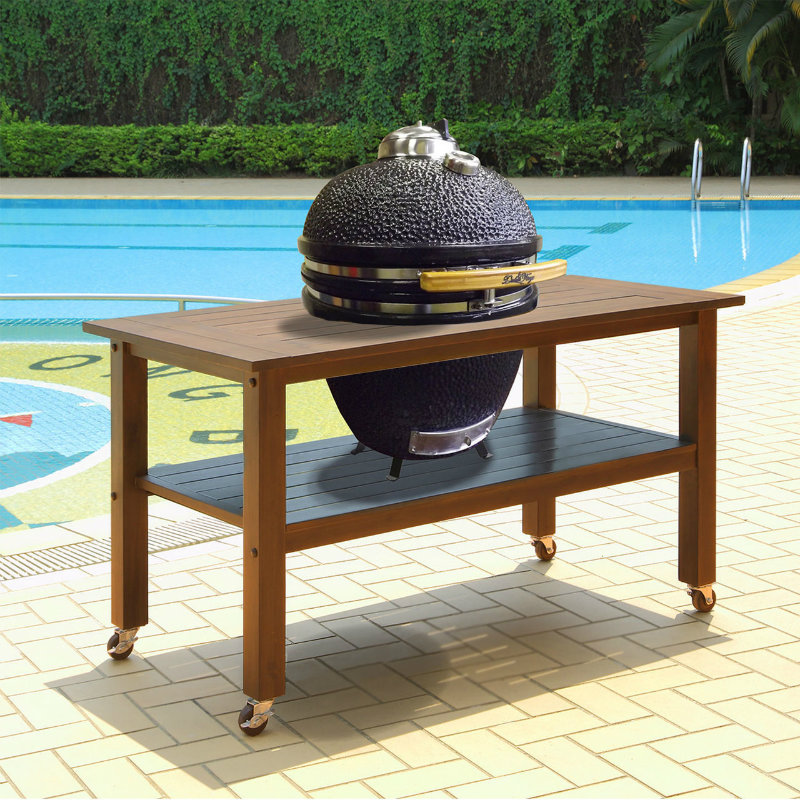 The Duluth Forge solid wood table is hand-crafted from beautiful and long lasting Acacia wood, which is naturally weather resistant.
The 40-inch wide table was designed to provide plenty of workspace for your perfect 4th of July Cookout!