Going to a house warming party this weekend? Few things are more exciting than moving into a new place and every empty home offers the potential and the promise of a new start.
Housewarming gifts are a great way to help residents feel comfortable in an unfamiliar place and house warming parties are great occasions to attend and celebrate that transition into a new chapter.
You want to give this new home owner an unusual gift that will be remembered. A present that will amaze them and give them the "wow" factor when they unwrap your thoughtful gift.
Identify the house owner's likes and dislikes.
Does the home owner like spending time outside? Then think about creating comfort on the patio.
Is the home owner a "foodie"? Then think practical things for the kitchen.
Does the home owner want some quirky or lifestyle stuff, as he/she currently has everything they need already? Then think about a unique piece of hand made art.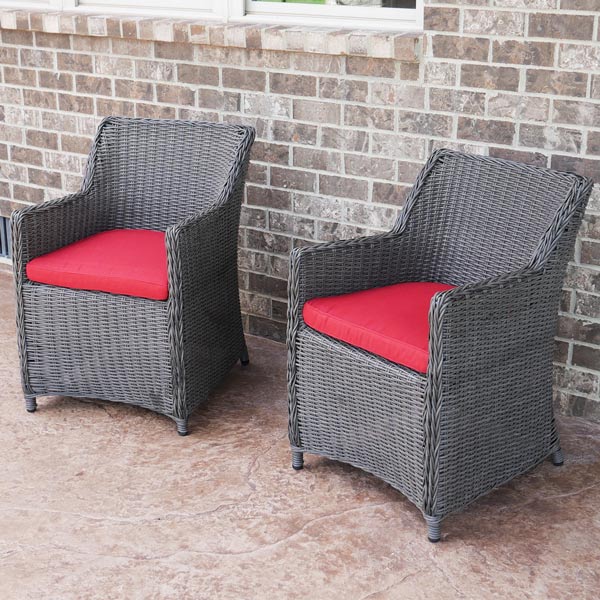 Sea Island Wicker Patio Lounge Chair Set With Red Cushion - Set of 2
Patio Lounge Chairs
Patio furniture is the perfect year-round gift and outside space can quickly become a second living room during warm weather. Outdoor living areas increase quality of life and can transform any yard or patio into functional space.
Look for patio furniture that provides comfort and durability. Wicker outdoor furniture will surely capture the hearts of your loved ones who like relaxing on classic furniture and can turn outdoor living space into a comfortable nook.
Wicker patio furniture is easily maintained and is a welcome addition to every back yard or patio.
Duluth Forge 21 Inch Kamado Grill With Table - Antique Grey
Kamado Grill and Smokers
Kamado grills are an extremely versatile cooking appliance that ancient people have been using for over 4 thousand years.
They are deeply rooted in history and the reason for this is because of their flexibility as they can be used for smoking, grilling or baking.
Kamado's usefulness are being rediscovered today and modern technological advances have made them even stronger and longer-lasting.
Ease of Use
In addition to its versatility and durability, there are a number of factors that make a Kamado grill easy to use:
Assembly time 15-30 minutes

Start-up time 15 minutes

Simply brush or scrape the cooking grate before use to clean

Ideal for small outdoor areas
The Kamado doesn't take up much space while still allowing to cook practically anything. Limited amount of space is not an issue as Kamado grills are about 18-20 inches wide. They are ideal for small outdoor areas, and can even be inserted into a grill table for additional space.
Fire Pit Art Tropical Moon Fire Pit
Fire Pits
One of the hottest design concepts for an outside space is an open fire pit.
Fire pits are welcome additions to any home that can add value as they are attractive pieces of workable art. Whether it's late night cocktails by the fire or roasting s'mores with the kids, a fire pit adds new dimensions to any backyard or patio.
A new home brings new experiences and an exciting new life journey. So if your host prefers either functional products or the unusual, Factory Buys Direct has something for everyone.