Once upon a time, nothing seemed more wholesome than fresh, sweet summer corn. Delicious, affordable and ubiquitous, it's a crowd-pleaser that's easy to prepare. Then came the low-carb revolution, and the notion that those delectable kernels are the devil in disguise. But now, the sentiment is starting to change as we realize corn doesn't entirely deserve its bad rap.
There's a lot to like about corn. To start, it doesn't contain even a gram of sugar, and its carb count is lower than you might expect. For example, an ear of sweet corn contains just 10 grams of carbs.
A small apple has 17 grams, even though both clock in at about 60 calories. Corn is also rich in vitamin A, important for immunity, and it's high in lutein, an antioxidant which builds healthy vision. With one gram of fiber per ear, it's a better choice than the high-carb, zero-fiber starchy sides like the soft rolls it can easily replace.
Corn Recipes
Corn Salsa
1 (11 ounce) can whole kernel corn, drained
1 (4 ounce) can sliced black olives, drained
1 1/2 cups diced roma tomatoes
3/4 cup diced red onion
1 red bell pepper, seeded and diced
1 1/2 teaspoons minced jalapeno pepper
1 avocados - peeled, pitted and diced
2 tablespoons olive oil
2 tablespoons fresh lime juice
1 teaspoon salt
Mix together corn, olives, tomatoes, onion, red pepper, and jalapeno pepper in a large bowl. Gently fold in diced avocado, olive oil, lime juice, and salt.
Corn on the Cob (3 methods)
Grill in the husk:
1.Preheat your grill to a medium-high heat, about 350–400 °F
2.Soak the corn in cold water, soak for a minimum of 15 minutes and a maximum of 60 minutes
3.Remove the silk, peel back the husks just enough to expose the kernels. Brush on olive oil or room-temperature butter with a pastry brush, and season with salt, pepper, and/or savory herbs. Pull the loose husks back up over the kernels.
4.Grill for 20-30 minutes, turning every 5 minutes
5.peel back the husks from the tip down. Serve the corn while it's still hot.
Grill in Aluminum Foil:
1.Soak the ears of corn for a minimum of 15 minutes and a maximum of 60 minutes
2.Shuck the corn, starting at the top, strip all the husks and silks away from the ears of corn and discard them. If there's any dirt on the kernels, rinse it off.
3.Preheat your grill to medium heat (350-400F)
4.Brush the kernels with butter or olive oil and season with salt and pepper
5.Roll each corn cob in aluminum foil, twisting the ends to secure
6.Grill the corn for 20 minutes, rotating every 5 minutes to evenly cook each side
Useful Tip: Using flavored butter always makes corn a summer sensation, you can use an herb infused butter, a garlic butter, or a BBQ butter to enhance the flavor of your grilled corn.
Duluth Forge Kamado Grill - 21 Inch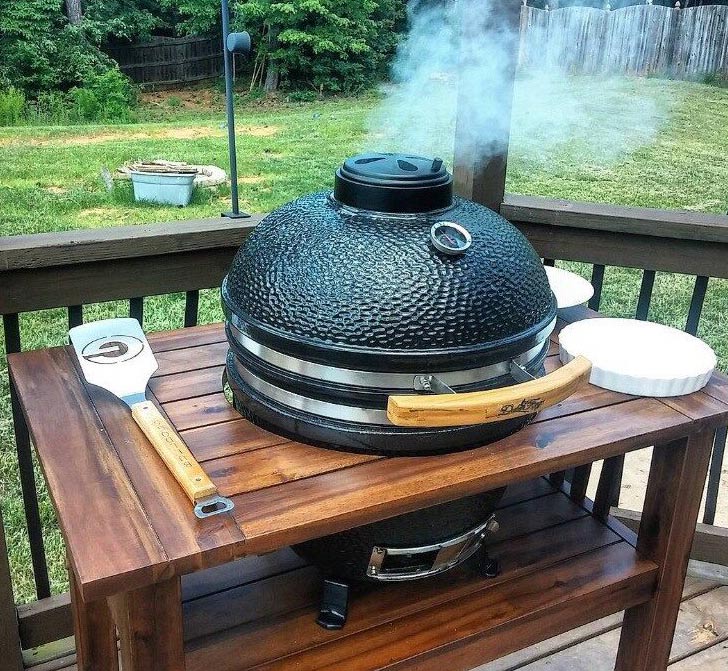 Kamado grills, regardless of the brand, work on a few basic principles:
They are wood burning vessel, so no gas
They have thick walls, perfect insulation for smoking
They have vents on the top and bottom, for temperature control
They have the ability to smoke and grill.
The Duluth Forge Kamado Grill can superbly sear at high heat or smoke with low heat.