While cooking a plant-based Thanksgiving dinner may seem like a daunting task, a Duluth Forge Kamado Grill can help you effortlessly grill your vegetables and infuse your vegan meal with a complex, smoky flavor your guests won't easily forget.
Are you hosting Thanksgiving dinner this year?
A study conducted by VegetarianTimes found that "3.2% of U.S. adults, or [roughly] 7.3 million people follow a vegetarian-based diet." Within this same study, 1 million of the surveyed people stated they were vegan, meaning they do not consume any foods with animal products in them. By completely removing animal products from your Thanksgiving dinner, this essentially means no turkey centerpiece, no eggs in your pie and no whipped cream on top, and no cheese plate appetizers while the food cooks.
While this may seem overwhelming for some, veganism overall has become more popular and grown an estimated "500% since 2014 in the United States". This of course shows that there is a large population of Americans who are abandoning the turkey dinner for a healthier, more sustainable substitute.
Why Vegan?
The choice to become vegan ultimately boils down to three main reasons: physical health, protecting the environment, and protecting the lives of animals. According to Harvard Health, plant-based diets can potentially decrease a person's risk of heart disease, cancer, and diabetes. With a Duluth Forge Kamado Grill, you can cook a healthy Thanksgiving dinner without compromising flavor.
Duluth Forge Grilled Veggieduckin
The Veggieduckin is inspired by the iconic Turduckin which is a chicken stuffed into a duck, stuffed into a turkey.
But instead it is a sweet potato, stuffed into stuffing, stuffed into a butternut squash.
Ingredients
6 pressed garlic cloves
1 chopped onion
3 chopped red bell peppers
1/2 cup olive oil
2 cups chopped flat-leaf Italian parsley
4 cups breadcrumbs
1/2 cup vegetable broth
1 1/2 tablespoons salt
1 teaspoon ground black pepper
2 cooked sweet potatoes, peeled and ends cut off, 6-inches long
3 large semi steamed leeks, cut lengthwise
1 large Butternut big squash (or 2 smaller ones)
Directions
1. Preheat the Duluth Forge Kamado Grill to 350 degrees F.
2. Heat 1/4 cup olive oil in a large pan, add garlic, onions, peppers mixture and sautee over medium-high heat for about 5 minutes.
3. Add the parsley, breadcrumbs, broth, onion mixture, salt, black pepper and remaining olive oil.
4. Trim the ends of the butternut squash, and slice in half lengthwise. Scoop out seeds and any loose fibers using a large metal spoon.
5. Press 2 cups of the onion stuffing into the body of the each squash, making a hollow space in the center.
6. Line the hollow with leeks.
7. Cover the leeks with a thin layer of stuffing, press to create a hollow for the seet potatoes.
8. Lay the sweet potatoes into the hollow and cover with a thin layer of stuffing.
9. Use the last half of the squash to cover the stuffing, and the press down on it. This should set it in place.
Cover the stuffing with the remaining squash half, pressing firmly to set in place.
10.Transfer "veggieducken" to a baking sheet and bake for about 1 hour.
It's done when a knife slides easily into the center.
Cut slices and serve.
Duluth Forge 18 Inch Kamado Grill With Table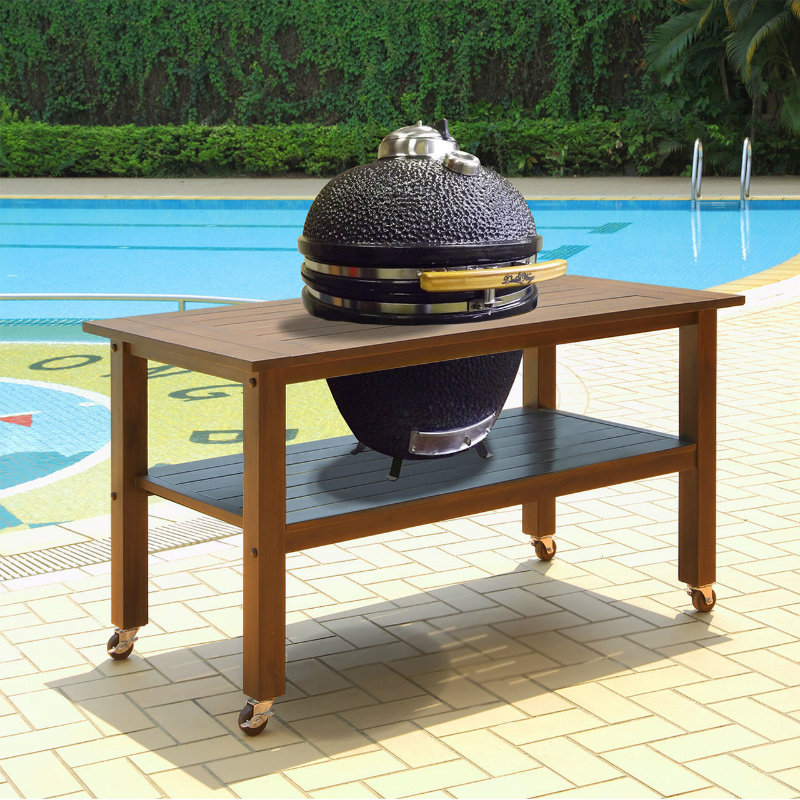 Our iconic Duluth Forge Kamado Grill features one inch thick ceramic walls which allow for better heat retention and even circulation. The Stainless Steel Dual-Action Top Vent allows for faster starting, searing, and heat adjustment. Equipped with a Bi-Level Cooking Grate, easy to read Stainless Steel thermometer, and Commercial-Grade hardware, you will love cooking in the outdoors with your Kamado Grill.