Decorating your fireplace and fireplace mantel for Halloween is one simple way to add some spooky spirit to your home. Additionally, seasonal decorating offers an opportunity for your family to get into the holiday spirit and express their creativity. However it should be noted that all decorating should be done mindfully, with potential fire hazards and safety risks taken into consideration.
Gourds, Squashes and Pumpkins
Pumpkins, squashes, and gourds are a commonly associated with the Fall season, making them easily available at most craft stores. Plain pumpkin can be used for a Fall theme or Thanksgiving, while painted pumpkins can be used during Halloween for added flair and drama. For an upscale look, pumpkins can be painted gold or other solid metallic colors of your choice.
Cheesecloth Cobwebs
For a spider web effect, you can string cheesecloth over a mirror or parts of your pumpkins to create a spider web effect. Small black spiders can then be placed in the cheesecloth for added drama, or attached to your walls for a creepier, crawling visual. If you're looking for an old fashioned aesthetic you can add candlesticks to your mantel or cover them with your spider web cheesecloth as well.
Vintage Vignette
A vignette, in terms of decoration, is usually a small collection of items used to tell a story. For a vintage vignette, you could frame print outs of skeletons or classic portraits in ornate frames for a somber effect. Using a skull for a center piece, you could also place skeleton keys and draped material over your mantel for an old, skeleton mansion feel.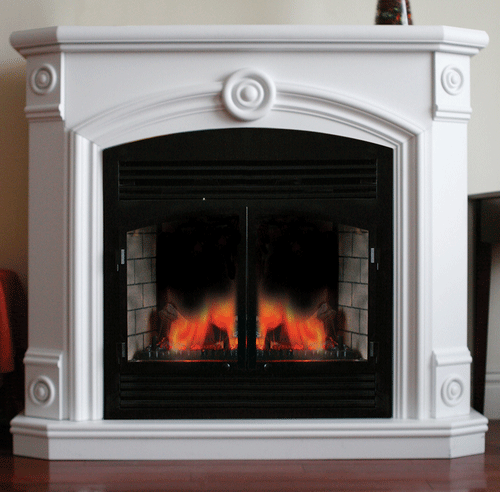 Ghostly White
Using leftover cheesecloth, carefully drape it over the top of your mantel and pair it with white vases filled empty branches for a modern, graveyard look. Cheesecloth ghosts and a wreath created from black and white bats hung on the wall behind can add a more frightening feel to your mantel. White painted sugar pumpkins with crowd perched on top and small LED lights will help you create a more menacing look to your mantel. However its important to be aware of your decorative drapery to ensure it doesn't cause any fire hazards or pose a safety risk.
Wicked Witches
A rustic room can be perched on one side of your fireplace, and a black cauldron on the other, for a witchy feel. For a center piece you can place a large witch hat on your mantel and take up fleeing black cat cut outs for added effect. LED lights can be placed in the cauldron to simulate the churning of a witch's brew too.
Skeleton Bones in the Fireplace
If you don't plan on using your fireplace for a while, you can clean your fireplace and throw an entire skeleton in and arrange the bones however you like. After cleaning the fireplace, lay down some LED lights of different colors and cover them with a light, see through material to hide the source. This will simulate the look of hot coals underneath your skeleton for extra spooks and drama.