Image courtesy of www.rantsports.com
Heat Up Your Tailgate with a Tank-Top Propane Heater
Tailgating during March Madness is a right of passage at most NCAA colleges and hosting the perfect tailgate before the big game is key. Sports fans around the country debate the best way to tailgate, but there's one thing that all tailgaters can agree on: It's still freezing cold in March!
Everyone loves tailgating but no one loves being cold, especially when you spend hours at a time outside before and after the big game. If we could control the weather, it would be sunny and 80 degrees every day but to most of the nation, March goes in like a lion and goes out like a lion.
To combat frigid conditions, tailgaters have many ways to stay warm, from blankets to multiple layers to 5-alarm chili. One widely used source of heat at tailgates is to gather around the BBQ but let's face it, not everyone can fit and you don't want to crowd the chef.
Luckily there are better methods. Something that's quiet, reliable and affordable.
Bring the Heat with a Tank-Top Propane Heaters!
A Tank-Top Propane Heater is your best bet to keep your freezing hands warm at any sporting event or outdoor activity. The heater mounts on top of the same standard propane tank you would use on a gas grill and it has a built-in tool that secures the heater on top of the tank.
It also has a safety feature that automatically shuts the propane source off if it gets tipped over.
Energy Efficiency
A standard 20lb. propane cylinder can last for up to 43 hours when using a single tank top heater on the low setting and about 29 hours on the high setting! The propane heater burns clean and the infrared radiant heating brings a variety of benefits over other heating methods. Tank-Top Propane Heaters are easy to use and require no maintenance.
Wide Heating Coverage
The infrared radiant heat makes the most efficient use of fuel and easily heats a wide area.
Stainless Steel
Durability is also important when considering an outdoor heater. You can rely on it even in the harshest environments.
No Mess
Outdoor fire pits are messy and need a lot of supervision and maintenance but with a Tank Top Propane Heater you don't worry about ashes or wood. There are no air quality issues like smoke that can irritate eyes and allergy symptoms.
Safety
Tank Top Propane Heaters are safe to use and you don't have to watch for the ashes and sparks of an open fire. Tank-Top Propane Heaters are an efficient and reliable way to warm your next tailgate party.
Infrared tank top propane heaters are designed to be quick and easy to use and FactoryBuysDirect.com propane tank top heaters are engineered using the highest quality parts to ensure you stay warm no matter the outdoor situation.
These portable propane heaters are CSA approved and include safety features such as a safety tip-over switch for worry free operation.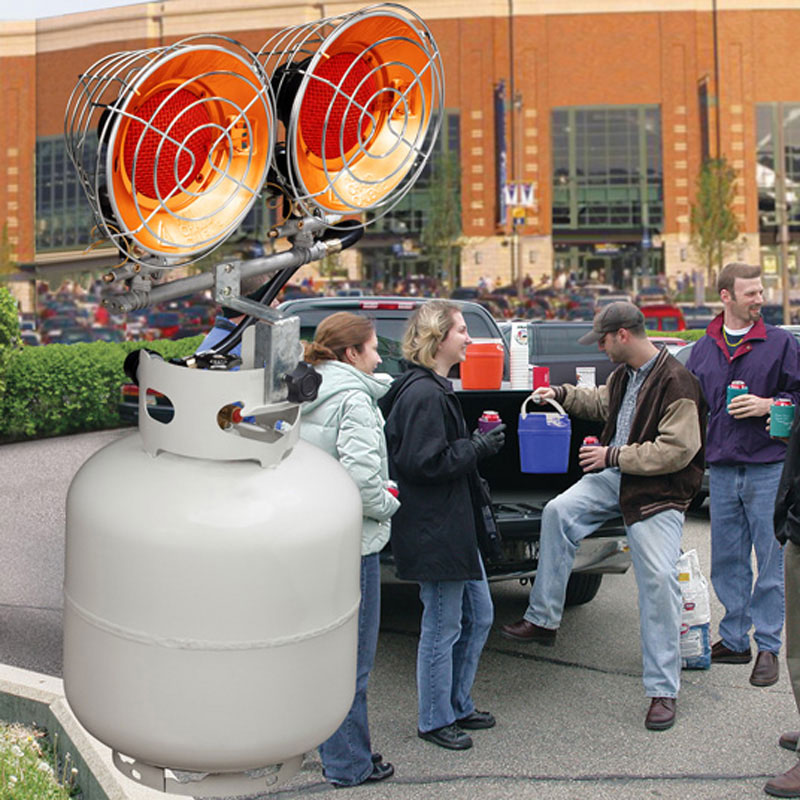 This heater can run up to 43 hours if using a single burner or up to 21.5 hours if using both burners on a single 20 lb. propane tank! This heater gives you a comfortable and convenient heat that is easily accessible.
Perfect for ice fishing, hunting, tailgating, camping, and any other outdoor activities.
FIREPLACES

GAS LOG SETS