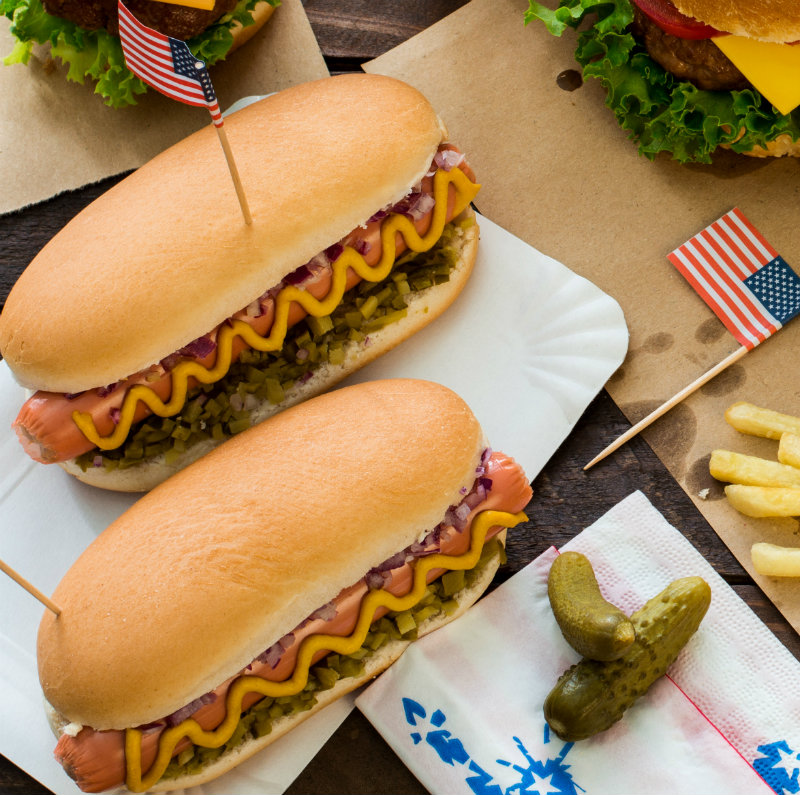 A hot dog is a cooked sausage that is made from a combination of beef and pork or all beef, which is cured, smoked, and cooked.
They are also called frankfurters, frank, weenie, wienie, wiener, dog, and red hots and according to the National Hot Dog & Sausage Council, Americans eat over 150 million hot dogs on the 4th of July alone. But before they were on your Duluth Forge Kamado Grill, hot dogs graced the fires of ancient Greece, the beer houses of Germany and the 1893 Chicago World's Fair.
Sausages emerged independently in many different parts of the world because they are a perfect way to use up small scraps of meat. The earliest mention of sausage was in Homer's Odyssesy written over 10,000 years ago, and describes goat sausages glistening on a grill.
But is was Emperor Nero Claudius Caesar's cook, Gaius, who is given credit for inventing the first sausage. Gaius stuffed the intestines of a pig with ground venison, beef and spices, tied them into sections and the wiener was born.
Later the frankfurter was developed in Frankfurt in the 1400's which was a thick, soft, and fatty sausage.
Hot Dogs in America
References to dachshund sausages and ultimately hot dogs came from German immigrants in the 1800s. Germans have been eating their "little dog" sausages with bread for centuries and first sold them from push carts in New York City's Bowery in the 1860s.
These immigrants brought both dachshund dogs and sausages to America. The name most likely began as a joke about the Germans' small, long, thin dogs. As the legend goes, vendor Harry Stevens began selling the "hot dachshund sausages" during a game at the New York Polo Grounds and shouted, "Get your red-hot dachshund sausages!"
The word "hot dog" began appearing in magazines in the 1890s and students at Yale began call the wagons selling hot sausages in buns outside their dorms as "dog wagons." It didn't take long for a "dog" to become a "hot dog."
Nathan's Famous
In 1916 a Polish immigrant, Nathan Handwerker, opened Nathan's Famous hotdog shop on Coney Island where he charged 5 cents a hot dog with a recipe developed by his wife Ida
Nathan's instanty became famous and legendary characters such as Al Capone, Eddie Cantor, Jimmy Durante, and Cary Grant were regular customers.
President Roosevelt even served Nathan's Famous hot dogs to the King and Queen of England in 1939 and sent them as a gift to Winston Churchill and Stalin.
Governor of New York, Nelson Rockefeller, said that, "No man can hope to be elected in his state without being photographed eating a hot dog at Nathan's Famous."
Nathan's hot dogs, which are all-beef and come in both natural-casing and skinless and there have been over 435 million Nathan's Famous Hot Dogs sold to date!
Nathan's Hot Dog Eating Contest
According to legend, on July 4, 1916, four immigrants held a hot dog eating contest at Nathan's Famous stand on Coney Island to settle an argument about who was the most patriotic and the contest has been held each year since.
The competition draws many spectators and worldwide media coverage and this year marks the 101st Anniversary of this legendary competition.
The competition was dominated by Japanese contestants, particularly Takeru Kobayashi, who won six consecutive contests from 2001-2006.
Kobayashi transformed the competition and the world of competitive eating by downing 50 hot dogs—smashing the previous record (25.5).
The Japanese professional eater introduced advanced training techniques that shattered eating world records and sent the event into over drive.
Hot dogs are among America's favorite foods and whether accompanied with mustard and onions or just a bun, no food represents America better than the humble hot dog.
Coney Island Hot Dog
A Coney Island Hot Dog is a sandwich in a bun topped with a meat sauce, yellow mustard, white onion and cheese.
Coney Island Chili Dog Sauce
Ingredients
1 lb ground chuck
1 large onion, chopped
2 garlic cloves, minced
1 (6 ounce) can tomato paste
1 cup water
1 tablespoon sugar
1 tablespoon prepared yellow mustard
1 tablespoon onion powder
2 teaspoons chili powder
1 teaspoon Worcestershire sauce
1 teaspoon salt
1⁄2 teaspoon ground cumin (heaping)
1⁄4 teaspoon ground black pepper
Instructions:
1. Brown ground beef and onions in a skillet
2. Add garlic when meat is nearly done.
3. Add remaining ingredients; stir well to combine.
4. Simmer over low heat 15 minutes.
Serve over Duluth Forge Kamado Grilled hot dogs, Coney Island style! Top with shredded cheddar cheese.
Tips for Grilling Hot Dogs on a Duluth Forge Kamado Grill
At most backyard BBQ's, the burgers and hot dogs are thrown over a flaming hot grill together. If you don't want to burn the hot dogs and shrivel them like jerky, take control of your grill.
1. Create 2 heat zones.
2. The hot dogs should be medium low.
3. Keep dogs moving to heat evenly.
Choose from Duluth Forge's popular egg-shaped ceramic Kamado charcoal grills in different sizes.
These are some of the finest grills and smokers, using unique and innovative designs and the highest quality materials and craftsmanship to deliver the very best results every time.