"Chesnuts roasting on Duluth Forge Kamado Grill, Jack Frost nipping at your nose."
Isn't that the way the song goes?
It's that time of year again when we think of roasted chesnuts and open fires and what better way to celebrate the holidays than roasting your own on a Duluth Forge Kamado Grill!
Why are Chesnuts Eaten at Christmas?
Chesnuts were probably one of the first foods eaten by prehistoric man and became synonymous with Christmas as it is a winter crop.
These classic nuts are versatile, cheap and very nutritious which is probably why they were found on most Christmas tables.
Chesnuts were a staple in the Mediterranean for thousands of years and are low in fat, high in fiber, and packed with lot of great minerals and vitamins like potassium and vitamin C.
The nut is bitter but roasting makes the nut sweeter which also explains it's Christmas affiliation as people traditionally ate sweets on the holidays.
Perfectly toast chesnuts on a Duluth Forge Kamado Grill and enjoy the sweet, earthy aroma that fills your home with the Christmas spirit!
Kamado Grilled Chesnuts
Chesnuts need an intense high heat to roast and bring out the sweetness and Kamado Grills
Prepping
1. Inspect the chesnuts and toss any that are cracked or moldy. If it's dried out, it will rattle and these should be tossed out.
2. Cut an X on the nut or they will literally explode off the grill and the X lets the steam out.
3. Rinse them off in a colander to get any dirt or dust off.
Grilling
1. Preheat your Duluth Forge Kamado Grill to 400 F.
2. If the chestnuts are large enough they can fit on the grate without falling through but if they are snmaller, put them in a grill basket or poke some holes in a tin pie plate.
3. Grill for about 15 minutes turning every 5 minutes so they cook evenly and watching so they don't burn.
4. Remove from grill and cool.
Shelling
1. While they are still warm, use the X that was marked before they went on the grill and gently peel.
2. The shells should be hard and break open easily to remove the meat inside.
Eat them as they are or put them in a great recipe like chesnut stuffing!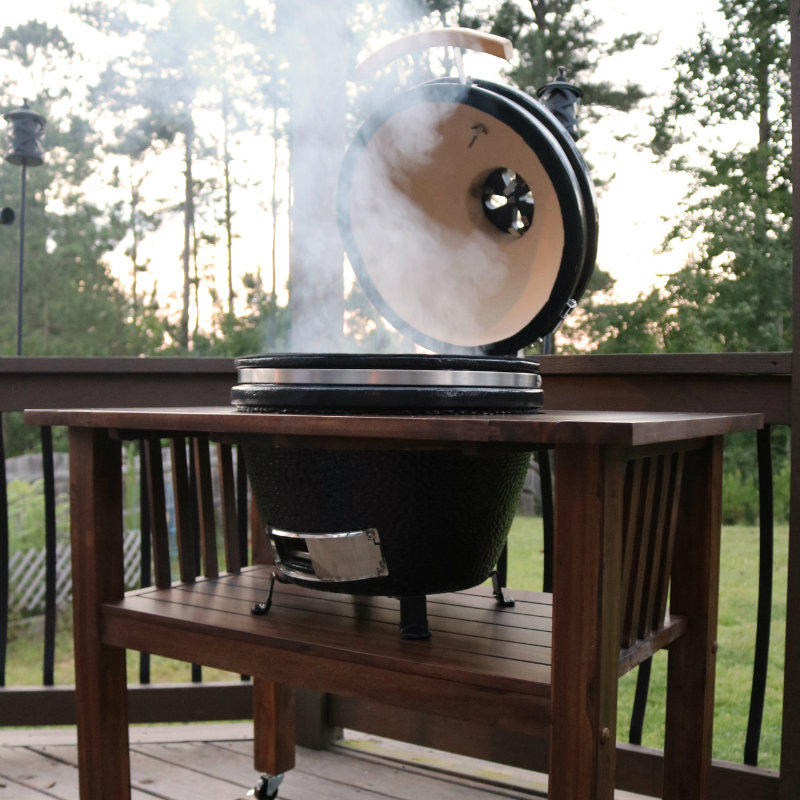 Duluth Forge Kamado Grill
Our iconic grill features 1.25" thick ceramic walls that give amazing heat retention and even circulation even in the winter.
The Duluth Forge Kamado Grill provides outstanding temperature control to help you craft the perfect steak or smoke the perfect ribs.