show / hide sidebar
Most Romantic Hotel Fireplaces
Most Romantic Hotel Fireplaces
Most Romantic Hotel Fireplaces
There is no doubt, hotel fireplaces heat things up for Valentine's Day. There are contemporary fireplaces in urban boutique hotels and historic hearths whose stones could tell a thousand tales of love.
Some hotels treat guests to in-room gas fireplaces, while others have a roaring wood fireplace to make a bold design statement in the lobby. Fireplaces in a public lounge area are a favorite spot for couples who want to enjoy intimate ambiance.
Whether your idea of the perfect fireside get away involves ski slopes or a hip downtown hotel, there is something about snuggling up with your loved one while gazing into the flames that sets the mood, on Valentine's Day and every day.
Best hotels for fireside romance….
Many Glacier Hotel, Glacier Park, MT
Just as the landscape and wildlife are part of the heritage of Glacier National Park, so is this historic lodges that boasts one of the most awe-inspiring views on earth.
The ceiling mounted fireplace is surrounded by rustic stone at the center of the Great Room with seating areas and social zones are organized around it. This perfect chalet fireplace can spread its warmth and charm to the entire space.
Ashford Castle, Ireland
When it comes to cozy winter charm it's hard to beat Ireland. Love stories date back centuries at the Ashford Castle wooden fireplace that is surround by Irish mythology figures carved into the wood.
This is a popular space is used for private dining, afternoon tea and intimate weddings and the fireplace dates back to the Renaissance period. Even though it's freezing cold and off season for the Emerald Isle, it is still a magical time to visit.
Hotel Bel-Air, Los Angeles
It doesn't take a medieval forest and cold weather to set the stage for a beautiful fireplace. The Hotel Bel-Air proves that the sunny climate of Los Angeles can be just as romantic.
The fireplace in the Southern California hotel is a glass-encased line of flames on your private outdoor patio. So as you sit next to the fire, you can see palm trees next to the shimmering pool and patio lounge.
XV Beacon, Boston
This Four-Star boutique hotel in Boston's Beacon Hill neighborhood offers up Italian marble bathrooms and gas fireplace in each of the 63 guest rooms.
The fireplaces blend right in with the hotel's mix of antique furniture and is nestled in a brushed stainless-steel fireplace surround.
Twins Farms, Barnard, VT
The Five-Star Twin Farms' 10 cottages are luxury accommodations that are nestled within 300 acres of forest. The large, river-rock fireplace sits within wooden walls and provides a warm gathering place for lovers.
The resort's Log Cabin blends modern conveniences with the rustic ambience and the rope hammock in the cabin's enclosed porch is a great place to hang.
The Gastonian, Savannah
The historic mansion surrounded by lush foliage has the down-to-earth feel in each of the 17 rooms that features antique furniture and a working fireplace. Located in Savannah's fabled Historic District, this upscale B&B gives romance a new dimension.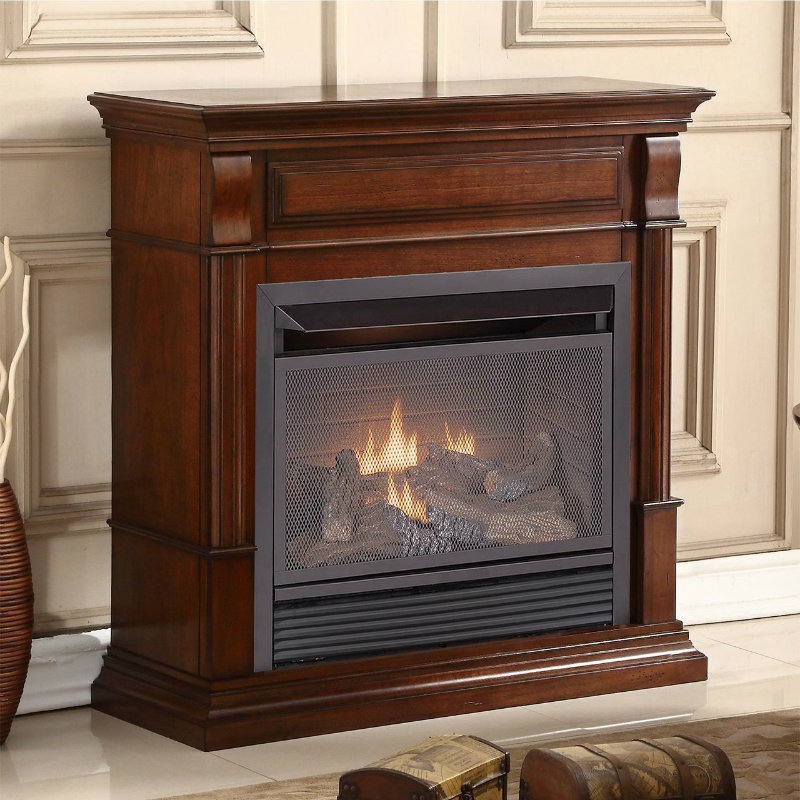 While the weather outside is frightful, remember...the fire is so delightful, so check out FactoryBuysDirect's selection of Ventless Fireplaces, Ventless Gas Space Heaters, Fireplace Inserts and Electric Fireplaces are both functional and elegant.
Perfect for any bedroom or Great Room, this Duluth Forge Vent-Free Fireplace is simply a beautiful and versatile piece of quality furniture. This Fireplace can live in an antique, modern, bohemian, industrial, minimal, or any other types of hotel or bed and breakfast.
FIREPLACES

GAS LOG SETS
---