Some Dad's get breakfast in bed while others get a new tie they will never wear but of course the best gift you can give Dad on Father's Day is a full stomach! Father's Day is all about inviting a bunch of friends and family over to celebrate by opening a few beers and firing up the grill.
The first official Father's Day in the United States was observed on June 19, 1910. However, the idea of officially celebrating fatherhood has been around since the middle ages and it is celebrated worldwide.
Father's Day recognizes the contribution that fathers and father figures make to the lives of their children. This day celebrates fatherhood and male parenting.
Honor Dad with some great backyard grilling delicious recipes for the perfect celebratory cookout.
Big Beefy Barbecue Ribs
Ingredients
Water soaked wood chips & chunks
BBQ rub
Couple racks of beef ribs
Favorite BBQ sauce
Instructions
1. Get your Duluth Forge Kamado up to about 225 degrees F
2. Trim as much of the silver skin from the back of the ribs
3. Slather the ribs in rub
4. Put smoke wood on grill.
5. Once the white smoke dies down and there is blue smoke coming from the chimney, put the ribs on and set a timer for two hours
6. At the two hour mark, rotate your grill grate 180 degrees so the ribs don't get overdone.
7. Keep them on for another 2 hours or so, checking every 30 minutes.
They're done when the meat has moved up the bone a little less than half way.
Smoked Buffalo Hot Wings with Bleu Cheese Dip
Ingredients
Chicken Ingredients
2 lbs Chicken Wingettes and Drumettes
1 tsp Salt
2 1/2 tbsp Red Hot Sauce
2 tbsp Butter (melted)
Instructions
1. Preheat the grill to 300F.
2. Mix the flour and salt in a bowl. Rinse the chicken and toss to coat.
3. Place the chicken pieces on grill.
4. Roast for 30-45 minutes or until tender, turning once or twice.
5. Mix the hot sauce and melted butter in a large bowl, then place the chicken pieces in the bowl and toss to coat.
Jalapeno Poppers
Ingredients
20 fresh jalapenos, 2 to 3 inches in size
Two 8-ounce packages cream cheese, slightly softened
1 pound thin (regular) bacon, slices cut in half
Directions
1. Preheat the oven to 275 degrees F.
2. Use latex gloves for handling peppers
3. With a Bull BBQ Chili Pepper Corer, remove the seeds and white membranes.
4. Spoon cream cheese into each jalapeno half and then wrap with a 1/2 slice of bacon.
5. Place on the rack in the baking sheet.
6. Grill until the bacon is sizzling and done, 45 minutes.
Bull BBQ's Stainless Chili Pepper Grill Rack includes patented pepper corer to trim and clean out peppers.
This rack holds 18 jalapeno peppers upright on the grill and makes preparing stuffed jalapenos easy.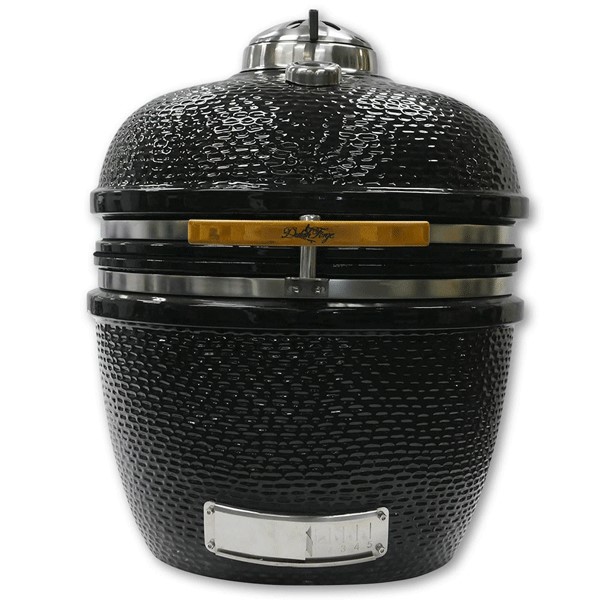 Duluth Forge Ceramic Charcoal Kamado Grill and Smoker - Extra Large Model
$799.99
Introducing the new Extra Large 24 Inch Duluth Forge Charcoal Kamado Ceramic Egg . Whether you are grilling, searing, or smoking meats or fish, the Duluth Forge Kamado Built-In Charcoal Grill is an ideal product for all your outdoor cooking needs.
Created with high-quality ceramic and commercial-grade stainless steel bands, hinges, springs, and hardware make it more resistant to rust. The one inch thick ceramic walls along with large fire bowl allow for better heat retention and even heat circulation. A kamado is a traditional ceramic Japanese wood or charcoal fueled cooking stove.
The ceramic construction for kamado's means there is no flavor contamination or metallic taste given to the food. Kamado's use lump wood charcoal which creates very little ash which can taint food and is manufactured in an environmentally sustainable manner. Regular charcoal briquettes contain many chemicals that contaminate the flavor of the food.
The round shape gives the best heat distribution, unlike rectangular grills which can create hot and cold spots. The heat retention properties of the ceramic shell can reach up to 1200 degrees F!
The Duluth Forge Ceramic Charcoal Kamado Grill and Smoker are made from the same materials used to make kilns and pizza ovens which are extremely good insulators that radiate heat effectively. The sides and domes absorb heat and radiate it back like a brick oven, so food cooks evenly from above.