Home Owners Associations have the power to control all exterior aesthetic aspects of your home because you agreed to abide by the rules when you bought the house.
The average letter most homeowners received usually begins, "Window Air Conditioners must be removed and will and not be permitted to be reinstalled."
Almost every newer housing development has a ban on window air conditioner units, which most likely states, "no window mounted ac units." Even if you are just renting, the home owner agreed to those by laws when they bought the home, and therefore any resident of that home has to also agree to the by-laws.
Why the Ban on Window Units?
Window air conditions are dangerous and have been known to fall out of windows and hurt people.
They're also noisy and can make a horrible racket. They're unsightly and homeowner associations are organized to keep the property looking appealing. Window air condition units drip and leave stains down the side of a house and protrude out of the side.
HOA's have a lot of rules regarding how your house looks like keeping paint fresh, siding repaired, lawns mowed, and often bans things that are considered ugly, like window units.
Benefits of Portable Air Conditioners
Central Air Inefficiency
You are contractually obligated to abide by the rules but central air in the summer can cost thousands. A Portable Air Conditioner (aka PAC) is smaller and incurs a lower operating cost, plus you can focus on specific rooms that only need to be cooled.
Utilize supplemental green cooling and reduce in-home heat with a Portable AC that provide specific spot cooling at pennies to a dollar compared to central air systems.
Lower Price
Portable air conditioners are more affordable than conventional window air conditioners. Compared to traditional ACs, they are energy efficient and can save hundreds of dollars on energy bills every year.
There are no installation costs because they don't need permanent installation.
No Installation
No need to call a professional or break a sweat to set up a portable air conditioner, just find an exit for the exhaust hose, and installation is complete!
Portable and Convenient
Thanks to the built-in casters, you can roll your portable air conditioner from room to room – wherever you need cool air. Most of them are also lightweight and easy to carry.
Bonus Features
An Avenger Portable Air Conditioner with Heater and Remote Control not only cools but also dehumidifies the air.
If you suffer from allergies then indoor humidity levels should be very important because high humidity encourages the growth of allergens like mold and dust mites.
The Avenger air conditioners feature a "dehumidify-only" mode that removes up to 1.4 litres of moisture from the air without cooling.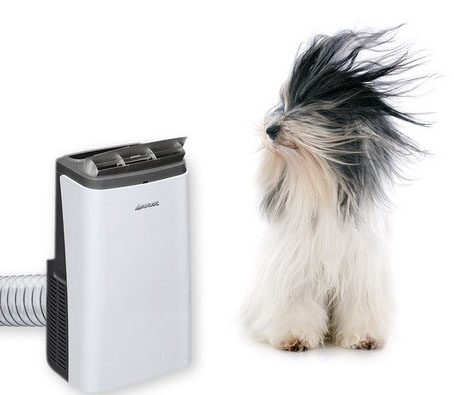 Avenger 10,000 BTU Portable Air Conditioner with Dehumidifier and Remote Control
The Avenger 10,000 BTU Portable Air Conditioner with Remote Control and Dehumidifier function provides ample airflow to cool spaces up to 300 sq. ft. and the two-way up/down air deflection circulates air evenly throughout the room.
The digital controls offer precise temperature adjustments, and the remote control lets mom control the air conditioner from across the room. The 3-speed fan and 24-hour timer allow personalized settings to fit her needs and the window installation kit and hose are included to make installation easy.