Preparing for Winter Weather Conditions, Warnings, and Advisories
BOWLING GREEN, KY- Each year, winter weather results in a flurry of new colds and snow days. However, recent trends have seen weather becoming less of an annoyance and instead more dangerous. According to a report published by the National Centers for Environmental Information (NCEI) from 1980 to 2017, 14 winter storms in the U.S. have resulted in estimated $3.1 billion in losses per event. In comparison, 8 freeze storms have generated an estimated $3.5 billion in damages during the same period.
Photo credit to NOAA NCEI

This winter has seen record breaking temperatures across the U.S. which, according to a statement released by the National Weather Service (NWS), will continue this week. The advisories issued by the NWS forecast flooding, ice, and heavy snowfall sweeping across the U.S. from the Central Midwest all the way through to the East Coast. As winter weather continues to effect most of the U.S., it's important to make necessary preparations to ensure you are warm both inside and outside of the home.
Indoor Emergency Tips and Products
With most modern appliances relying on either gas furnaces or electricity to operate, power outages can hinder your ability to properly heat your home. In an emergency, outdoor heating products such as tank top heaters and kerosene construction heaters should not be taken into your home as they are meant for industrial sites, workshops, or outdoor leisure activities. Bringing these items inside your home could potentially increase risks of residential fires or carbon monoxide poisoning. To avoid these dangers, keep outdoor heating products outside your home, check your carbon monoxide/smoke detectors to ensure they are properly working, and if using gas heaters for an extended period, make sure they are properly ventilated.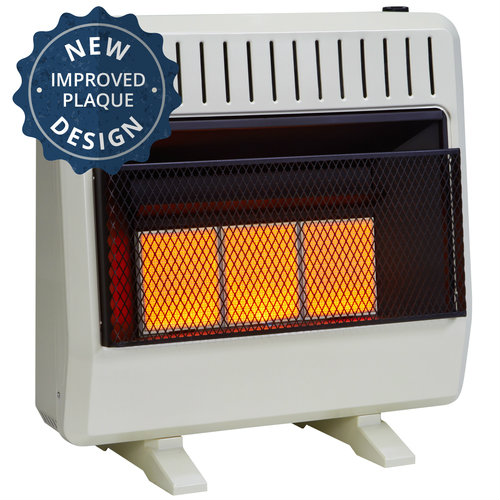 For extended periods of time without power, supplemental heating is an effective way to remain safe and warm. Unlike central heating systems which heat all rooms within a home, supplemental heating focuses on efficiently heating one chosen room. This is usually achieved through the use of ventless heating products with a push button piezo system, like our Avenger Dual Fuel Ventless Infrared Heater or Duluth Forge Dual Fuel Ventless Fireplace Insert, which allows them to be lit and used without electricity. While these ventless heaters and ventless fireplaces can quickly heat and maintain a room's temperature, in an emergency you can help increase their efficiency by closing the doors to rooms that won't require heat.
Outdoor Emergency Tips and Products
If you need to travel or work outside in winter weather conditions, it's important to be cautious and mindful of your surroundings. Be wary of ice, sleet, or hail and slow down when operating cars or other vehicles as conditions could potentially change at any given moment. If working outside for a while, remember to wear multiple layers of loose clothing and to drink water to avoid dehydration. Wind chill, blizzards, and freezing rain are dangerous conditions that can significantly increase your risk of hypothermia or frostbite.
Efficient outdoor heating products can help reduce your risk of illness while working in colder temperatures or conditions. In the event of electricity loss these products, like our ProCom Tank-Top Propane Heater and our Avenger Portable Kerosene Multi-Fuel Heater, can supply instant heat in a variety of weather conditions. Our Avenger kerosene heater for example can cold start at temperatures up to -40°F, has a thermally protected motor, outdoor weatherproof design, and can heat a space to temperatures between 40-95°F. On the other hand, our ProCom tank top propane heater can run for up to 43 hours on one 20lb. propane tank and features swiveling burner heads to provide directional heating in work spaces. While these products can reduce your risk of hypothermia while outdoors in winter weather, it's important to pay attention to weather advisories or warnings issued and take necessary precautions.