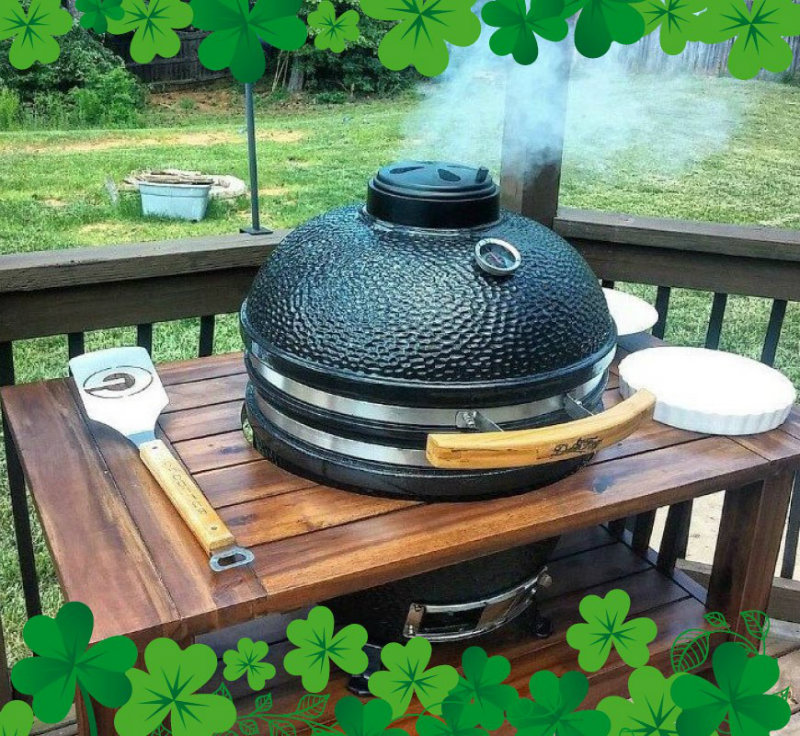 Real Irish BBQ on St. Patrick's Day
American's think that St. Patrick's Day is an excuse to drink green beer and eat corned beef and cabbage. The truth is that boiled Corned Beef isn't an Irish dish. It is American. In fact, many of the traditions of St. Patrick's Day celebrations didn't make it to Ireland until recently.
In Gaelic Ireland cattle were not used for their meat but for their strength in the fields and for their milk to make dairy products. Beef was not a part of the diet for the majority of the population.
Pork and lamb were the prevalent meats bred only to be eaten from ancient times right up until modern times. The Irish immigrants who came to America at the turn of the century almost solely bought their meat from local kosher butchers in New York City.
And what we think of today as Irish corned beef is actually Jewish corned beef thrown into a pot with potatoes and the most affordable vegetable, cabbage. It didn't take long for corned beef and cabbage to become associated with St. Patrick's Day in America.
The traditional St. Patrick's Day meal eaten in Ireland is lamb.
Real Irish BBQ
Despite Ireland's wet climate, grilling and BBQ is really catching on and the Irish are finding that it is a perfect way to cook the tender Irish grass-fed meats. Having long been a major producer of meat products, the Irish have a great tradition of hearth grilled food, also Ireland's recent immigrants from Eastern Europe have brought with them a love of grilled sausages.
The country knows all about real American barbecue and they purchase gas and charcoal grills at a rate that has attracted BBQ manufacturers from all over the world. Any grill or smoker you can buy in the United States can be found or shipped to the Emerald Isle and with one of the fastest growing economies in Europe, the Irish are firing it up.
So if you want to celebrate St. Patrick's Day properly, fire up the grill, and stock up on good whiskey (a tradition from St. Patrick himself) and enjoy some grilled lamb on your new Kamado Grill.
Duluth Forge Ceramic Charcoal Kamado Grill and Smoker - Medium Model
$599.99
Introducing the Duluth Forge Charcoal Kamado Ceramic Egg. Whether you are grilling, searing, or smoking meats or fish, the Duluth Forge Kamado Built-In Charcoal Grill is an ideal product for all your outdoor cooking needs.
Created with high-quality ceramic and commercial-grade stainless steel bands, hinges, springs, and hardware make it more resistant to rust. The one inch thick ceramic walls along with large fire bowl allow for better heat retention and even heat circulation. A kamado is a traditional ceramic Japanese wood or charcoal fueled cooking stove.
The ceramic construction for kamado's means there is no flavor contamination or metallic taste given to the food. Kamado's use lump wood charcoal which creates very little ash which can taint food and is manufactured in an environmentally sustainable manner. Regular charcoal briquettes contain many chemicals that contaminate the flavor of the food.
The round shape gives the best heat distribution, unlike rectangular grills which can create hot and cold spots. The heat retention properties of the ceramic shell can reach up to 1200 degrees F!
The Duluth Forge Ceramic Charcoal Kamado Grill and Smoker are made from the same materials used to make kilns and pizza ovens which are extremely good insulators that radiate heat effectively. The sides and domes absorb heat and radiate it back like a brick oven, so food cooks evenly from above.
Traditional Irish Grilled Leg Of Lamb With Rosemary and Garlic
Ingredients:
1 well-trimmed 6-pound boneless leg of lamb

8 garlic cloves, peeled, divided

1/2 cup extra-virgin olive oil

1/4 cup dry white wine

2 tablespoons finely chopped fresh rosemary

Rosemary sprigs
Preparation:
Thinly slice 4 garlic cloves. Insert garlic slices into slits in lamb.

Combine remaining 4 garlic cloves, olive oil, white wine, rosemary in processor. Blend until coarse puree forms.

Spread puree over lamb and cover with plastic and chill overnight.

Let lamb stand at room temperature 2 hours.

Sprinkle lamb generously with salt and pepper on both sides.

Grill lamb about 20 minutes per side for medium-rare
Enjoy! from Factory Buys Direct