Contrary to popular belief that I am a vegetarian, I am in fact an omnivore and I really enjoy a good BBQ.
When I was younger my preference was Elk which I tackled like an NFL linebacker but lately I've really been into Organic Free Range Grass Fed Brisket.
I'm a big guy! I need a large amount of food, keeping that meat at it's peak until dinner time is a challenge.
BBQ aficionados will tell you that there is a narrow window when smoked meat is at its best and once the window is closed, the meat starts to deteriorate.
I can stay up all night feeding the fire every two hours to make sure it runs low-and-slow, getting the meat perfect for a 4 p.m. slicing.
It's hard to know how best to time the meats.
After meat finishes cooking, it should be kept warm and stored for dinner but the options are either a heat lamp which can dry out the meat or leaving it in the Duluth Forge Kamado Grill and Smoker, which will over cook the meat.
Professional BBQ joints used to use steam tables which turned the meat to mush but now are turning to thick Rotomolded Coolers like the Avenger Hero Extreme 75-Quart Cooler.
Resting vs. Holding
Patience is a virtue and the key to great brisket is time.
Cooked meat actually benefits from both resting and then holding.
Resting needs to happen immediately when the meat is removed from the grill and literally needs to "rest" in the open air.
Proteins thicken the natural juices as they cool during resting and the thickened liquid escapes slower when the meat is finally sliced.
Resting the meat is crucial to allow collagen in the meat to become gelatin.
After the meat has properly rested for an hour or so, it should then be wrapped in plastic, foil or unwaxed butcher paper (which is cheaper) to act as an insulator.
Resting is not "holding," which means keeping the meat at a certain temperature over a period of time.
I keep holding meat warm in my Avenger Cooler for up to 6 hours and the quality is unparalleled.
Meat must be held in the "safe zone" of a minimum 145 degrees to prevent food borne illnesses but as long as it's wrapped/foiled tightly you should be able to "hold" a brisket all day.
Allowing a big piece of brisket to rest for a long period of time improves its texture and the overall eating experience, so in other words, don't fear the hold, embrace it.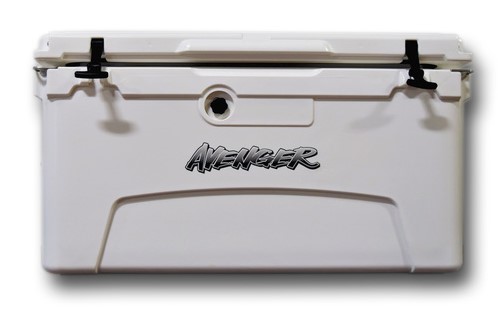 Technique
All it takes is an Avenger Cooler, some butchers wrap and a few towels:
1. Pull the fully cooked brisket from the grill.
2. Wrap it in unwaxed butcher paper as it allow a little air flow, which will help maintain the crusty exterior.
3. Loosely wrap a beach towel around the wrapped meat and place the whole shebang in the Avenger Cooler.
4. Shut the lid and leave the meat alone for up to 6 hours.
Big meats, like beef briskets improve with a long hold.
Duluth Forge Kamado Grill Bonus Squatch Brisket Recipe
Marinade/Mop:
3 cups beef stock or (about 2 small cans)
3/4 cup Worcestershire sauce
1/2 cup ketchup
1/2 cup lemon juice, fresh
2 tbsp yellow mustard, pourable
1 tbsp Asian chili paste
1 tbsp chili powder
1 tsp celery seed, ground
2 tsp Lawry's seasoning salt
1 tsp cumin, ground
1 tsp granulated onion or onion powder
Combine all ingredients and bring to a boil. Simmer for 10 minutes and then allow to cool before using as a marinade.
Dry Rub:
Mix together thoroughly the following:
1/2 cup paprika
1/4 cup Kosher salt
1/4 cup sugar
1/4 cup brown sugar
1/4 cup cumin
1/4 cup chili powder
1/4 cup fresh cracked black pepper
2 Tbsp cayenne pepper
Directions
1) Prepare the marinade/mop in advance using the recipe above. Allow it to cool completely before using.
2)(Brisket Marinating) Trim the brisket flat leaving approximately 1/8-1/4 inch of fat. It's important to leave enough to help keep the brisket moist during the cooking process. It is also important to take your time to properly select a brisket flat. Some of these are overly trimmed to begin with. A little fat here is a good thing.
3) Place the brisket in an XL Ziploc bag or a tall-rimmed pan. Pour the mop all around the brisket. Cover and refrigerate for 6-8 hours.
4)(Brisket with brisket rub) Remove the brisket and pat dry. Reserve the liquid and boil it for 10 minutes so it can be safely used as a mop later.
5) Thoroughly rub the brisket with a few tablespoons of rub. Use more or less depending on size.
6) Bring your smoker up to 300°F. Allow the brisket to warm to room temp while the smoker is warming up. This brisket is good with any mixture of bbq woods.
7) Place the brisket on the smoker at 225°F and cook for 2-3 hours to allow the bark to form. The recipe calls for 3 hours, but mop earlier if the brisket starts to look like it's drying out.
8) Mop hourly until the internal temperature reaches 165°F. You can monitor the temperature with a wireless thermometer as shown in the first picture. Wrap the brisket with heavy duty or two layers of regular tin foil.
9) Cook until the brisket reaches an internal temperature of 195°F. Keep wrapped and cover with a towel while allowing it to rest in the open air for at least 20-30 minutes.
NOTE: marinated briskets tend to cook more quickly with the amount of moisture in them. Plan for anywhere up to 1-2 hours less cooking time than you'd normally expect. If it finishes sooner than expected you can always use an Avenger cooler to safely hold the temperature for up to 3 hours or more.
Holding Brisket in an Avenger Cooler
1. Wrap brisket in foil or unwaxed butcher paper as they allow a little air flow, which will help maintain the crusty exterior.
2. Loosely wrap the foil package in a beach towel and place the whole thing in an Avenger Cooler.
3. Shut the lid and leave the meat alone for up to 6 hours.