I have always advocated that Avenger Coolers are great for keeping things icy cold for days but in the winter, I like to shift things around and use my Avengers for keeping things warm.
Now don't get upset, I don't drink warm beer, but I do like to rest my BBQ in a nice warm spot.
The one-piece, seamless construction and heavily insulated rotomolded Avenger Coolers are perfect for keeping BBQ at the perfect temperature while it rests.
Why Let BBQ Rest?
Allowing BBQ to rest helps keep the meat moist and tender and also improves the taste.
Raw meat is around 75% water and when it's cooked, the fiber compresses and contracts which squeezes water out, according to The Science of Good Cooking.
When meat is placed in an Avenger Cooler after cooking, this process is reversed.
The meat fibers relax and the moisture is reabsorbed, making the meat more tender.
Rested meat retains its natural juices because when you slice it, the liquid doesn't escape, so it retains it's moisture and is more succulent.
The best barbecue chefs in the world hold their briskets in insulated custom warming boxes for up to 4 hours before serving.
Champion BBQ Winner and owner of Louie Mueller Barbecue in Texas (aka "the cathedral of smoke"), Wayne Mueller, says resting meat, "Took our quality index from a low A to a high A".
This rested BBQ is described by experts as being the best ever produced.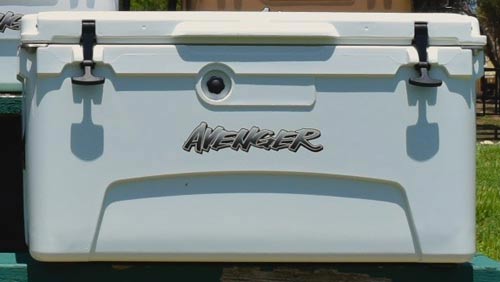 How Do You Rest BBQ in Avenger Cooler?
You can rest pork butt and brisket just like the professionals in an Avenger Cooler!
1. Place a large towel in the bottom of an empty Avenger 75-Quart Cooler to protect the plastic from the hot meat.
2. Wrap the meat with foil then more towels as insulation and place into the Avenger Cooler.
3. Monitor the meat temp to ensure it stays above 140°F for food safety.
What is Carry-Over Cooking?
The internal temperature of meat keeps on going up after taking off your Duluth Forge Kamado Grill.
This is called "Carry-Over Cooking" because literally the meat is still cooking and carried over from the heat source.
It's residual heat that transfers from the hot exterior of the meat to the cool middle.
The thicker the meat and the higher the grill temperature means there will be more heat in your meat.
Just remember to remove you BBQ from the grill just before the desired internal temperature is reached and allow this carry-over heat finish the job.
Cooking brisket to a final internal temperature of 135°F means you have to remove it from the grill at 120-125°F.
So as much as you want to cut right in, don't serve the barbecue hot off your Duluth Forge Kamado Grill.
Sit back, relax, grab a cold beer and let your meat rest in an Avenger Cooler to achieve perfection.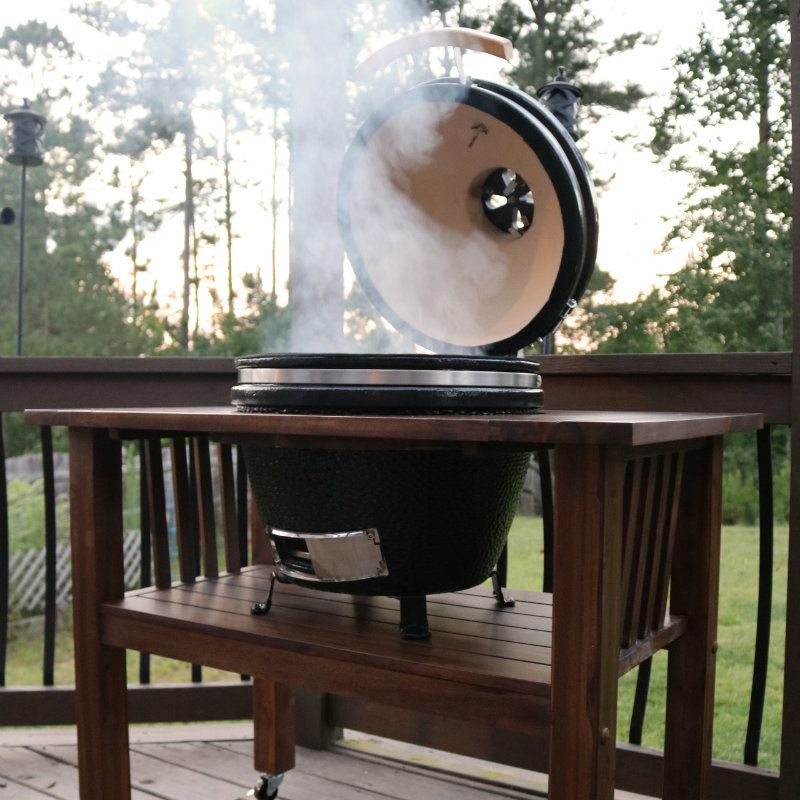 Squatch Beer Braised Winter BBQ Brisket
Ingredients:
6-7 lb beef trimmed Beef Brisket
Dry Rub
1/4 cup paprika
3 tbsp maple sugar
2 tbsp kosher salt
2 tbsp garlic powder
1 tbsp black pepper
1 tbsp onion powder
1 tbsp cumin
1 tsp cayenne pepper
2 bottles smoked porter or favorite dark beer
1. Massage your rub into the brisket and allow the it to marinate for at least 2 hours at room temperature.
2. Fill your Duluth Forge Kamado Grill with lump charcoal and start a fire in the center and let it burn for about 10 minutes without the lid on.
3. Add the brisket, close the lid and close the bottom vent till its open about 1/8 of an inch.
4. Slow cook meat until the internal temp reaches 145-150 degrees F.
5. Remove it and wrap in foil and place in Avenger Cooler in towels for an hour prior to slicing.