For fishermen, bears and a lot of my relatives, around the world, there is no greater prize than salmon.
Some can be as big as 25 pounds, and the best place to catch one (for the last 10 thousand years!) was Maine's Penobscot River.
It is said that Salmon were once so plentiful in the Penobscot that you could walk across the river on the backs of the fish.
And although the Wild Atlantic Salmon is on the endangered list, it's cousin the freshwater Native Landlock Salmon can be found all over the world.
One of the most distinguished characteristics of the freshwater salmon is its ability to get airborne as soon as it gets hooked, and there are more than 175 lakes and 44 rivers in Maine where you can fish "landlocks" all year long.
Why Winter Salmon Fishing?
After the Ice Age, the ocean level receded and the salmon became landlocked.
Maine's freezing cold glacial lakes provide amazing salmon fishing all year long because salmon like lower water temperatures.
No reason to sit around the living room this winter watching football, get out there and enjoy the great outdoors!
What are Salmon Fishing Tips?
Fish on cloudy days and use dark colored lures.
Locate a school of smelt with a fish finder, salmon will be hangin around for sure.
Salmon can contort their bodies violently when airborne way more than they can in the water so bow to a jumping salmon so you don't tear it's mouth.
Troll away from the sun and on top of choppy water (also called salmon chop).
Trolling is a method of where fishing line is drawn through the water, either behind a moving boat, or slowly wind in the line.
And when in doubt, troll deep!
What Makes a Good Fishing Cooler?
Whether you are going on a day trip or sneaking out for the morning, Avenger Hero Coolers are perfect for your catch any time of year.
Avenger Coolers can be used as seats and will get banged around a boat much more than the average family cooler.
Fisherman are hard on things and Avenger Coolers can take the abuse because they are as are tough as nails.
Avengers have an integrated measuring ruler molded into the top of the lid to measure your catch and Non-Slip Feet to keep your Avenger from moving around in the boat.
Keep your food, beer and salmon freezing cold for days and get a FREE accessory kit that includes a Wire Basket, Cup Holder and Cutting Board!
Squatch Grilled Salmon on a Duluth Forge Kamado Grill
We always celebrate the New Year with Salmon.
There is something about the concept of swimming forward into the New Year that is a tradition.
Ingredients
1 pound salmon filets
2 tablespoons soy sauce
1 tablespoon brown sugar
2 cloves garlic, minced
1 green onion (scallion preferred) thinly sliced
Directions
1. Rinse fish and pat dry with a paper towel.
2. Combine soy sauce, brown sugar, and garlic and place salmon in bag, seal and refrigerate an hour.
3. Prepare Duluth Forge Kamado for baking (set to 275°-300°F).
4. Place pizza stone on top of grill to pre-heat.
5. Add hickory wood chips over the charcoal for smoking.
6. Place fish on oiled pizza stone skin side down.
7. Grill salmon about 7-10 minutes until fish flakes easily.
8. Remove salmon and garnish with green onions.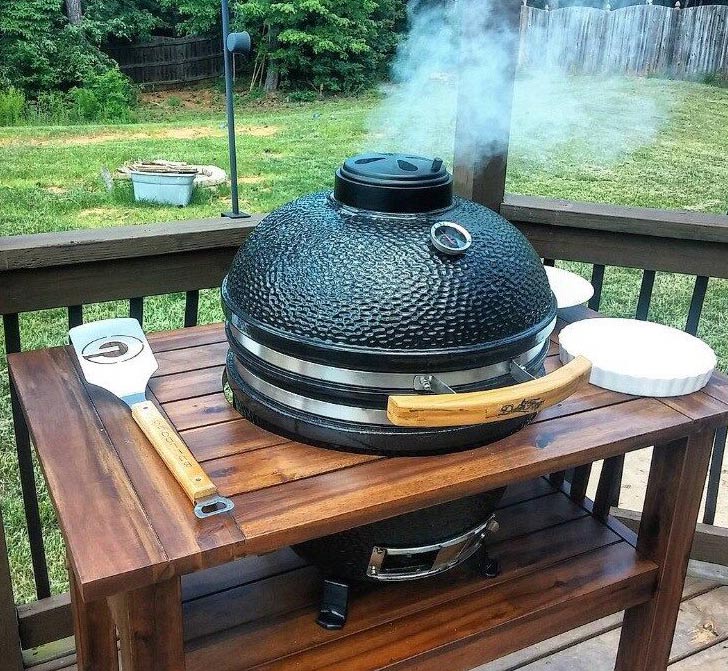 Whether you are grilling up a salmon steak, or smoking baby backs, the Duluth Forge Kamado Grill is perfect for all your outside grilling needs.