The modern-day Thanksgiving dinner usually centers around a roasted turkey or ham and features a variety of beloved side dishes such as stuffing, mashed potatoes, green bean casserole, or sweet potatoes with marshmallows. This of course is vastly different from the first Thanksgiving dinner that occurred in 1621 between the Wampanoag Indians and the Pilgrims, wherein a wild turkey was probably roasted over a traditional open wood fire.
Why Turkey is perfect for smoking on a Kamado?
In an effort to reduce stress and increase efficiency, turkeys and hams are often roasted in an oven for several hours while side dishes are prepared on the stove. Pies, casseroles, dinner rolls, and the similar foods however still require time in the oven too. One potential solution can be found by smoking the turkey outside on the grill, which will free up vital oven space and help you prepare a mouthwatering turkey dinner to remember.
Additionally, cooking your turkey on a Duluth Forge Kamado Grill will help you maintain the overall desired temperature of your home and infuse your turkey with a complex, smoky flavor.
Brining
To prevent your turkey from drying out during the smoking process, it's important to consider cooking preparations and methods that will retain moisture. One popular method for retaining moisture and infusing flavor in leaner proteins, such as turkey, is brining. In the ongoing battle for kitchen space, the 75-Quart Avenger Cooler can help you brine your turkey on the porch or in your garage to create additional space in your fridge for side dishes or desserts. The cooler's heavily insulated construction and UV resistance exterior can help keep a couple bags of ice, and in return your turkey, cool throughout the brining process. Due to the potential hazards commonly associated with preparing and cooking food however, it's strongly advised you regularly check the temperature of your turkey to ensure it's within safe temperatures.
Ingredients for Brine
1 gallon water
3 bags of ice
½ cup firmly packed brown sugar
Rind of 1 orange
5 sprigs rosemary
2 cups salt
3 quartered onions
1 garlic head
1 (14-pound) turkey
Freshly ground black pepper
Garlic powder
Brine Directions
1. Boil all of the brine ingredients and pour into an Avenger Cooler.
2. Remove the giblets from inside the turkey and rinse well
3. Place turkey in the Avenger Cooler with the seasoned liquid, make sure it's completely covered.
4. Cover with ice and let sit for 12 hours.
Prepare the grill
1. Soak 2 cups of hickory or pecan chips in water for 1 hour.
2. Set up the Duluth Forge Kamado Grill for indirect cooking at 240°F.
Smoking Directions
1. Brush the turkey with olive oil and and place the turkey in a pan on the Duluth Forge Kamado Grill.
2. Cook 12 minutes per pound or until the turkey has reached a safe minimum internal temperature of 165°F
3. Smoke 30-40 minutes per pound. An 8 pound turkey should take about 4 hours and a larger, 12 pound turkey will take around 6 hours.
Tips:
Keep an eye on the vent settings if the wind is kicking up, you might overcook.
Use a digital meat thermometer to make sure your turkey has reached the right temperature of 165 °F.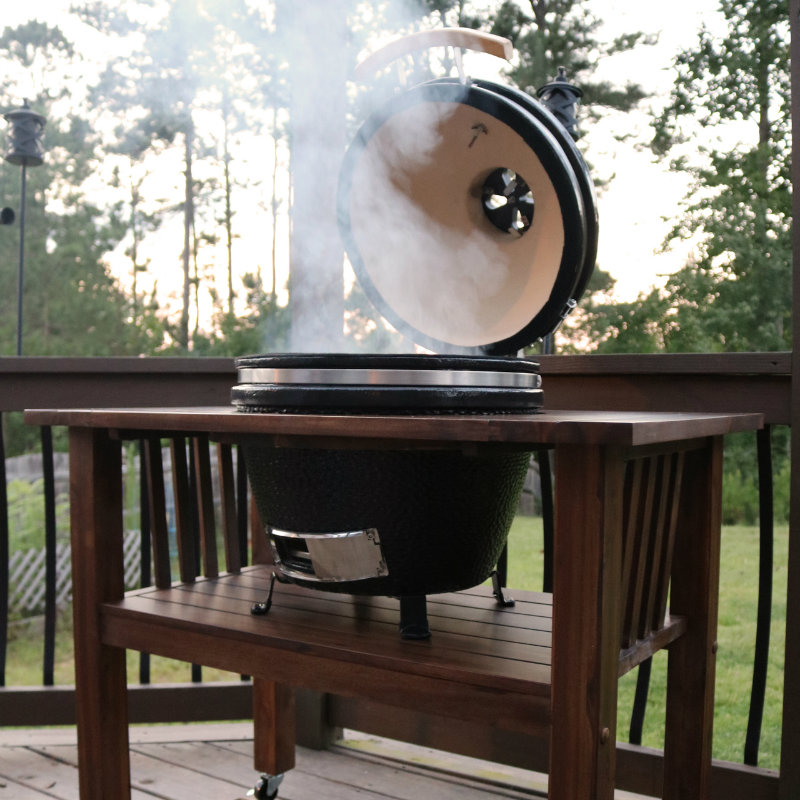 Our iconic Duluth Forge Kamado Grill features one inch thick ceramic walls which allow for better heat retention and even circulation. The Stainless Steel Dual-Action Top Vent allows for faster starting, searing, and heat adjustment. Equipped with a Bi-Level Cooking Grate, easy to read Stainless Steel thermometer, and Commercial-Grade hardware, you will love cooking in the outdoors with your Kamado Grill!