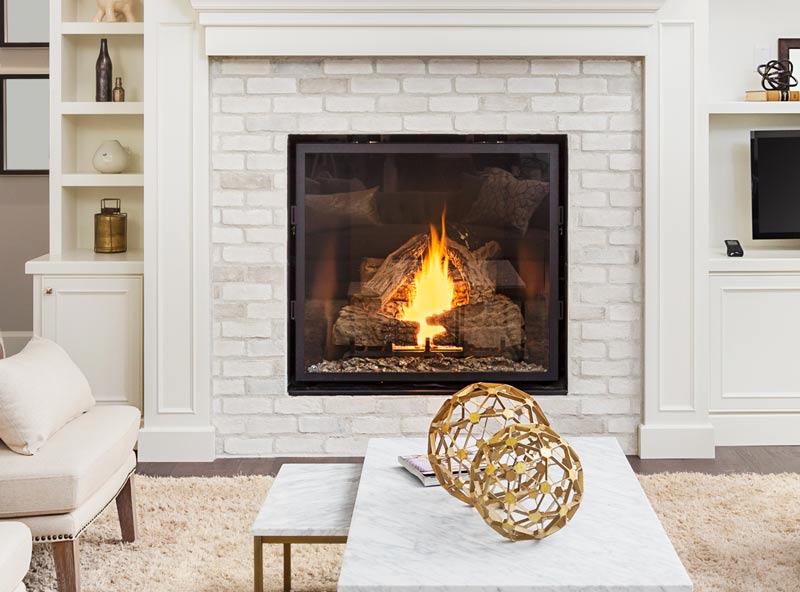 Zero-clearance is a term used to reference to how close a fireplace can be to combustible materials. Additionally, zero-clearance also is a type of fireplace that usually features extra insulation in comparison to traditional masonry fireplaces. These zero-clearance fireplaces often reduce the need for buffer zones between combustible materials, thereby allowing it to be installed in most homes including tiny homes. Furthermore, zero-clearance fireplaces are more cost-effective than traditional fireplaces because they can be installed against most walls and don't require significant structures to surround it.
Benefits of Zero-Clearance Fireplace
Zero-clearance fireplaces are significantly less expensive to install than their masonry counterparts due to their lack of hearth, quicker installation time, and ability to fit into smaller spaces without costly renovation. These same features also make zero-clearance fireplaces customizable to fit into preexisting or new design aesthetics within your home. Certain types of zero-clearance fireplaces don't require venting as well which can reduce the likelihood of heat escaping or cooling through a chimney or venting system. Due to this, zero-clearance fireplaces are a reliable source of heat and can create a warm ambiance in any room while helping save energy. Common zero-clearance fireplaces types include vented, ventless, electric.
Size Matters
The sizing of the firebox should correlate to the size of the room it's in to maximize efficiency. If a zero-clearance fireplace with too large of an opening is installed, heat will escape and be wasted. On the other hand, an opening that is too small won't properly or efficiently heat the room. Adding the length and the width of your desired room together will give you a close estimate to the firebox size you need. However it's also beneficial to consult with a professional to confirm as well.
Low Maintenance
The lack of chimney installation, repairs, and cleaning make these fireplaces low-maintenance and relatively easy to operate. When built with quality materials and properly installed, zero-clearance fireplaces have the potential to safely add ambiance and character to smaller areas. Various stylish designs also allow these modern fireplaces to fit into the unique aesthetic of your home.
ProCom Universal Ventless Firebox
ProCom's Universal Ventless Firebox features a refined look with a classic brick liner and a slender design for installation in smaller areas of your home. Customizable options include the ability to recess it into a wall or styled it with your choice of hearth or mantel. This universal ventless firebox can be paired with a ventless gas log set, and includes a built in unique airflow technology system for a more efficient heat flow.
Electric Fireplace Insert With Remote Control (perfect for California residents!)
This electric fireplace insert includes 3D flame effect technology, and enhanced flame effect and glowing ember bed to realistically mimic the flames of wood burning fireplaces. The electric fireplace insert can be flush mounted into a mantel, includes a child lock feature, and can be easily operated at the touch of a button using a AAA battery powered remote control. The beauty and efficiency of this electric fireplace insert makes an excellent addition to your living room, bedroom, or home office for year-round use!