Bitter cold and snow is already threatening a majority of the United States this winter. This winter snow and plummeting temperatures are already threatening large areas throughout the United States. According to reports from ABC News meteorologists , residents from Denver to New York will soon be bombarded as a significant weather pattern moves across the region. As a result, over a dozen states have severe winter weather warnings in effect. This is due in part to a cold front blanketing the East Coast with heavy snow, thunderstorms, and strong winds. Forecasters believe colder air from Canada will also be moving over the area as well.
While it's difficult to predict the severity of winter weather, you and your family can be warm and safe in the event of a power outage by preparing reliable heat sources in advance.
Keep Warm in a Power Outage
It's important to have emergency heating options prepared when power outages leave you without electricity and a furnace. A simple solution to this dangerous dilemma is to have a backup heating source capable of running on alternative fuel sources such as propane or natural gas on hand in your home.
Heating Without Electricity
Blue Flame Gas Heaters are one example of a reliable emergency heat source due to their ability to quickly and efficiently heat up a room. The unit accomplishes in a similar fashion to a furnace's central heating system, as its blue flame heating technology first heats air within a room and then circulates it throughout the space. This makes these units an efficient, versatile, and ideal heating solution for your home.
Avenger Dual Fuel Ventless Blue Flame Heater - 30,000 BTU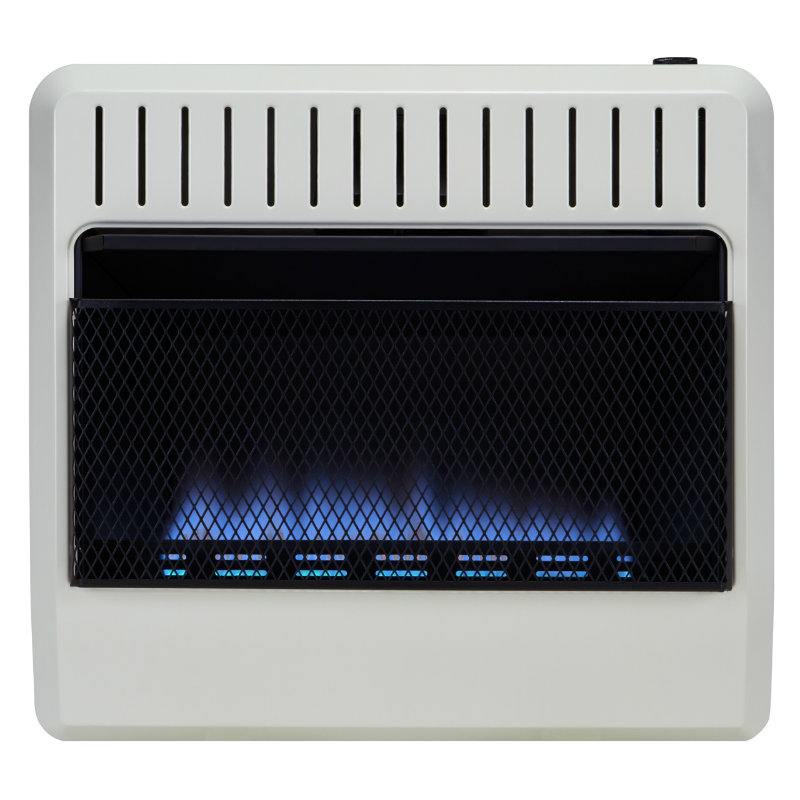 Avenger's Dual Fuel Vent Free 30,000 BTU Blue Flame Heater is built for durability and efficiency to keep your living space toasty warm for many winters to come. The unit can run on either natural gas or propane, and is capable of heating up to 1,400 square feet of space. Our units include a pre-installed blower, with an added value of $59.99 added value!
Avenger Dual Fuel Ventless Infrared Heater - 30,000 BTU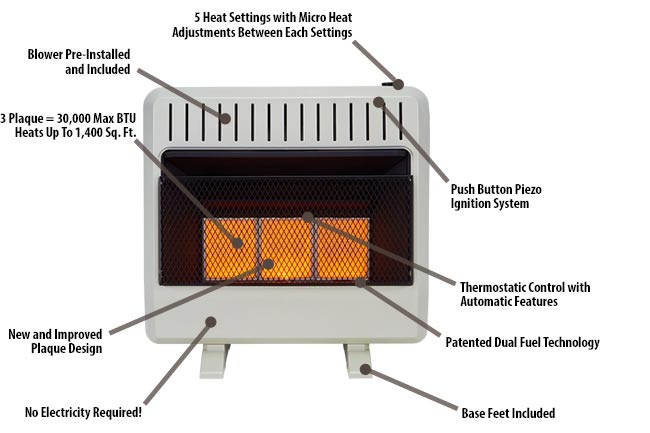 The New Avenger Ventless Infrared Heater has a new slimmer cabinet and the latest technology advancements in vent free infra-red burner design. No electricity is required to run the unit, which makes it perfect for emergencies like power outages. Base feet and wall mounting bracket are included, so it can be either mounted on the wall or rest on the floor.
Avenger Portable Kerosene Multi-Fuel Heater - 175,000 BTU
This heavy-duty heater can create up to 175,000 BTU, has a thermally protected motor for long life, and can cold-start up to -40°F. The heater includes flat-free wheels so you can warm for garages, construction sites, barns, factories, and warehouses during power outages. These units are proudly designed, engineered, and assembled in the U.S.
Be prepared this winter by shopping our selection of emergency space heaters to find one that is best for your living space!